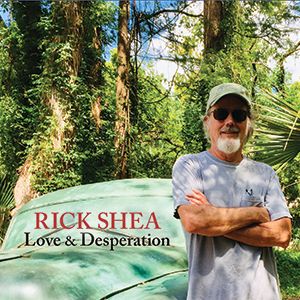 Bliss Bowen writes an appreciation of "Love & Desperation" for the Pasadena Weekly.
 "The album connects with essential touchstones: love, community, nature, music. Country-blues tunes have long been a staple of Shea's repertoire, but there's a more pronounced blues element than has been heard on his previous recordings."
Andrew Frolish reviews "Love & Desperation" and announces a new "Big Rain Is Comin', Mama" video in Americana-UK. 
"Rick Shea crafts songs of the highest quality and the new material shows he is still on top form.  Enjoy."
Hyperbolium reviews Rick Shea's "Love & Desperation. 
"Luckily, Shea's world isn't confined by his physical circumstances, as he still writes imaginative ballads ("A Tenderhearted Love"), ambivalent musings ("Nashville Blues"), and cinematic stories (the closing "Texas Lawyer") that belie the pandemic-induced isolation in which this music was created." [©2020 Hyperbolium]